Southern Hotel Rehabilitation Project- Ground Breaking Ceremony- Laredo Texas
The City of Laredo Community Development Department celebrated the groundbreaking ceremony of the Southern Hotel Apartments Rehabilitation Project on Friday, Aug. 25, 2003.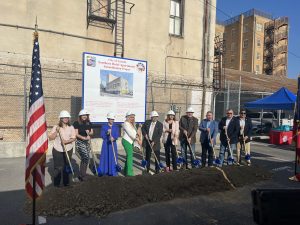 Sepulveda Associates Architects, Inc. Robert Sepulveda was happy to see the long awaited project on the road to finally becoming a reality. He mentioned there were a lot of hurdle to climb but we work together with all the entities to make it happen.
Project Awarded:
Project was awarded to Summit Building & Design– Construction Company in Laredo Texas. General Manager- David Acevedo mentioned, we are very familiar with these type of construction project located in the downtown area. Recently completing the Downtown Elderly Apartment located on the same block.
Building Description:
The structure is approximately 50 feet deep (North to South – perpendicular to street), 100′ wide (East to West – parallel to street) and approx. 45′ in height. The building footprint is approx. 5,000 gross square feet with a second and third level of same areas, respectively, producing approx. 15,000 gross square feet and three stories in total. There is evidence that the structure was constructed in several phases with a newer addition (Eastern section, post – 1910) and older original section(West section pre – 1910). In general, the same construction materials are present in the older and newer sections. Both interior and exterior architectural elements are sparing and unremarkable in their representation of the Victorian Commercial style that was typical of the period.
Southern Hotel Rehabilitation Project- Ground Breaking Ceremony- Laredo Texas